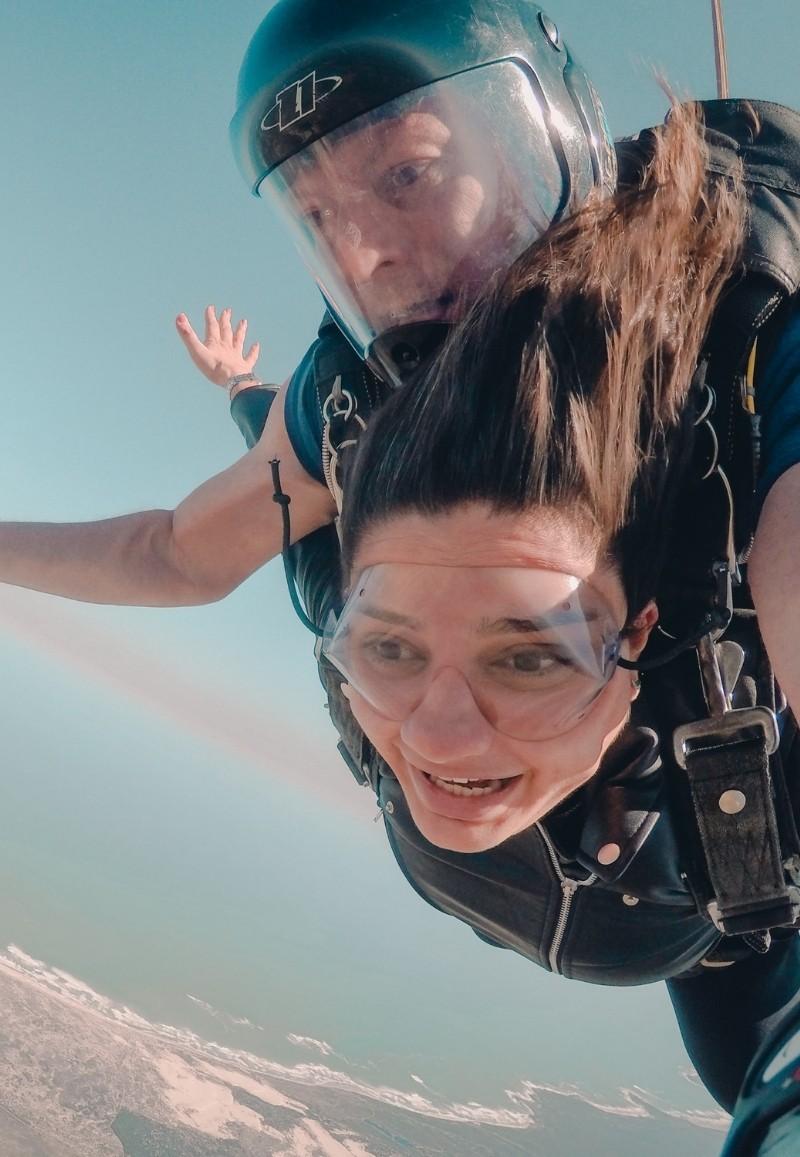 Sky is the limit: Skydive in Cape Town
Updated July 29, 2021
South Africa was on my bucket list since ages. The pristine beaches, adventurous activities, the wildlife sanctuaries, the vineyards all bundled together in one beautiful country. Thus when my friends and I were planning our yearly girls trip, we didn't look any further and zeroed in on South Africa.
Since we all are working professional, we didn't have many days at our leisure and decided to plan our trip for 8 days. The question was what all do you fit in an itinerary for 8 days? There is whale watching at Hermanus, shark dive at Knysna, Bungee Jump at Tsitsikamma (check my bunjee jump stint here), Sky dive at multiple locations , national parks with exhaustive list of animals and of course the vineyards. Puff.. so much to explore!
We finally came to the conclusion that Sky dive was non negotiable and kept it for the end of our trip.
Sky Dive in Cape Town
I consider myself an adventurous person.
Paragliding : Check
Snorkelling: Check
Bunjee Jump : Check
Hiking: Check
River rafting: Check
Sky dive: Err…
I was keen to get out of my comfort zone, push my limits and what better way to see one of the best cities in the world but from above. We knew that after coming this far from India, we may probably not get a chance to visit again and I didn't want my fear to get the better of me. Boy was I glad I did it, a major adventure activity ticked off my bucket lick. This is one Adventure activity in Cape Town that is not to be missed.
Which company to chose for Sky Dive Booking
Located 35 mins from the main city center of Cape Town, Skydive Cape Town was the most obvious choice for us. We made our booking through Sky Dive Cape Town as suggested by our guide. Its a professionally run company in this field since 2000. They hire internationally qualified tandem divers and use equipment manufactured by reputed companies in USA.
You can made the booking here
Sky Diving in Cape Town Price
Sky dive is by no means a cheap activity and you need to save up some money to go for it.
Only Sky dive : R2850
Sky Dive + Photo/ Video: R3650
By paying another R800 you get the photos & video that you can cherish for lifetime. You will receive the pictures & video in a wrist band free USB (how cool is that!)
You can check out the prices here
Skydive in Cape Town
We made our way from Outdtshoorn to Cape Town and arrived at the dive site in the afternoon. The staff was welcoming and after a quick tour around the hanger, they requested us to make the payment and sign the indemnity form. I was still contemplating and was about to chicken out but the staff put me at ease and before I could change my mind yet again, I made the payment.
Also read : Paragliding in Oludeniz: the only guide to Paragliding in Turkey
We were then introduced to our tandem divers who introduced themselves and started putting the harness on us and did some small talk. He asked me if it was my first time skydiving to which I meekly agreed and he said it was his first time diving too. LOL. He was an experienced diver who had done over a 1000 dives. What? Beat that!
If you choose the option of photos/ video the diver will do a quick Q& A on the way to the plane and click some pictures of you.
Sky Diving in Cape Town begins
These planes are really small that accommodate only 7 people including the pilot.
Mind you, it gets pretty squishy inside the plane and there is hardly any place to move around or stir for that matter.
It is safe and functional though. We spent 30 minutes ascending into the sky. The table mountain, Robben Island, Cape Point and much more can be seen from above.
The higher we ascended the smaller everything looked. My nerves were getting the better of me and I could feel my heart in my mouth. My instructor then connected the harness. I told him I was nervous to which he said " If you say NO all I hear is GO".
We were now 9000 ft i.e. 2.75 kms above ground level and it was time to take the plunge!
My friend was the first one to Jump and I gave her a nervous look. Within a matter of seconds, the instructor opened the door of the plane and my friend was asked to slide first. Off she went! Oh god, I didn't want to be next..
It was our turn and my instructor asked me to slide ahead. My head was pulled back and I heard the words "JUMP" and jump I did.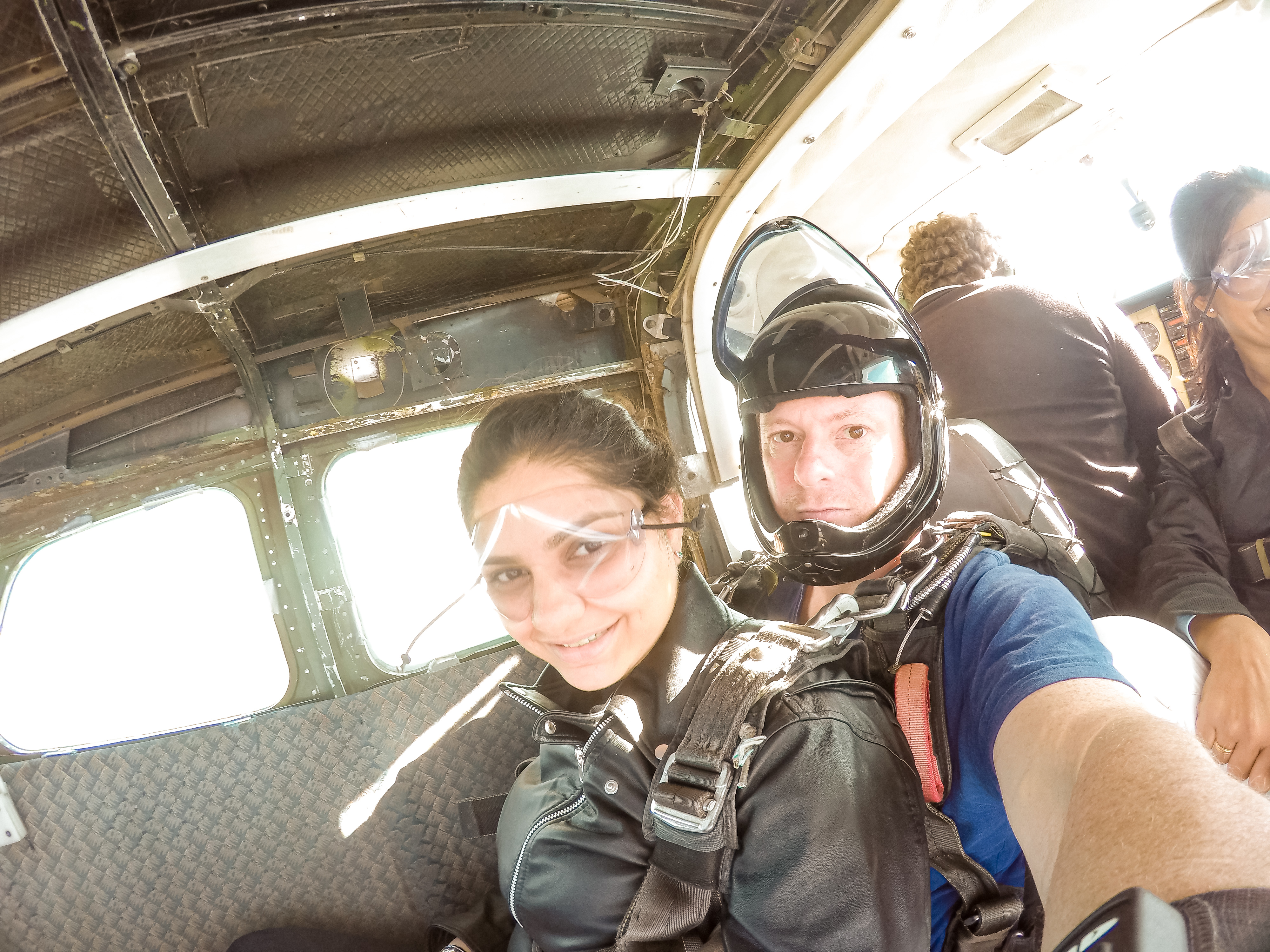 Fly like a bird : The JUMP
We jumped and wind hit my face. Since you have the glasses on, the wind does not hurt your eyes and you can see the earth below. Hell I was nervous when we jumped and I could barely breathe but after a minute you get the hang of it and the fun part kicks in.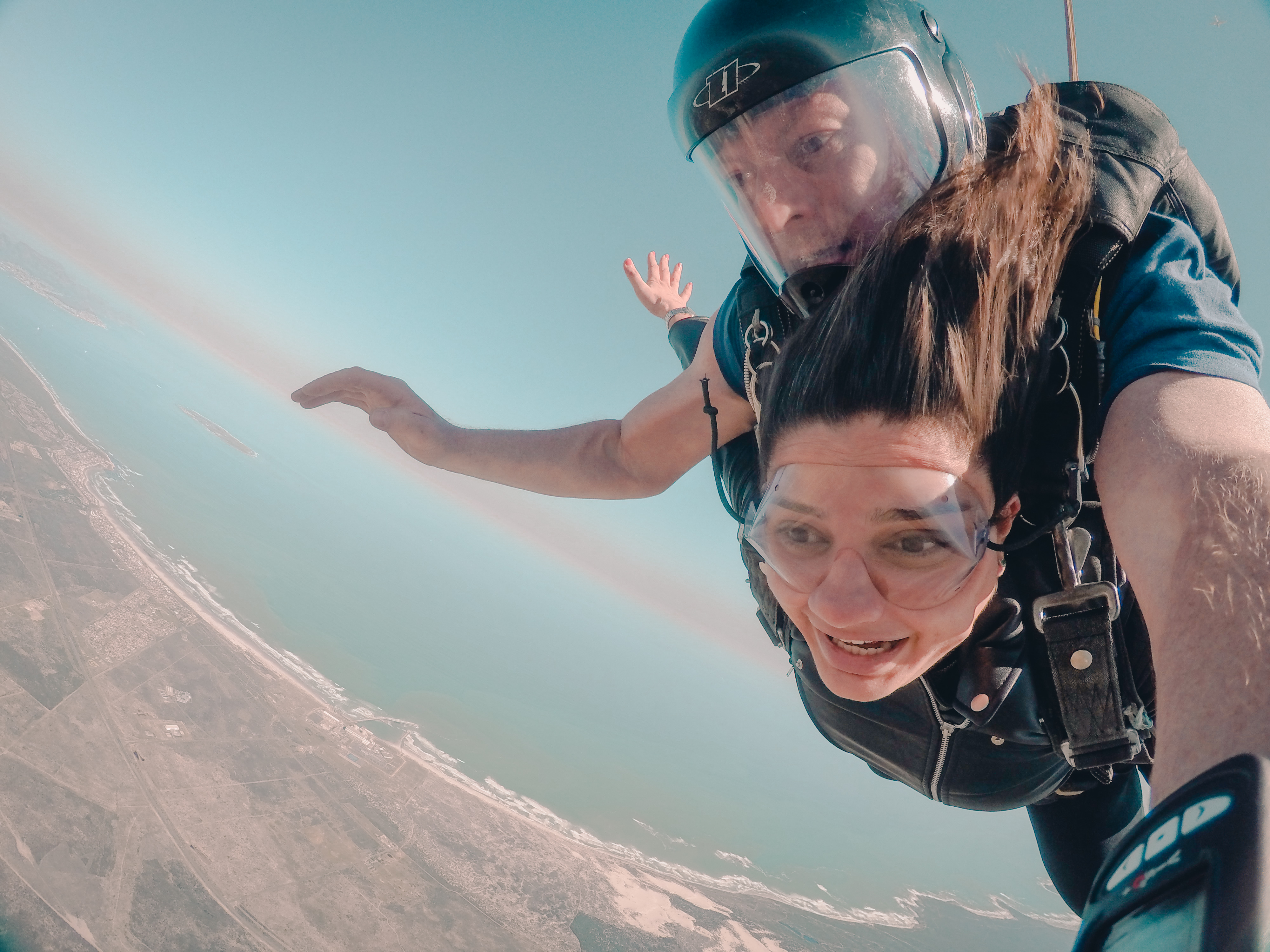 You fall at a speed of 180 km/h and the free fall lasts approximately for 30 seconds. The diver then opens up the parachute at about 5000 ft and you get to remove the glasses. The descend happens slowly and you get the time to take in the surroundings. Mind you the earth still looks super small so it can be a bit scary.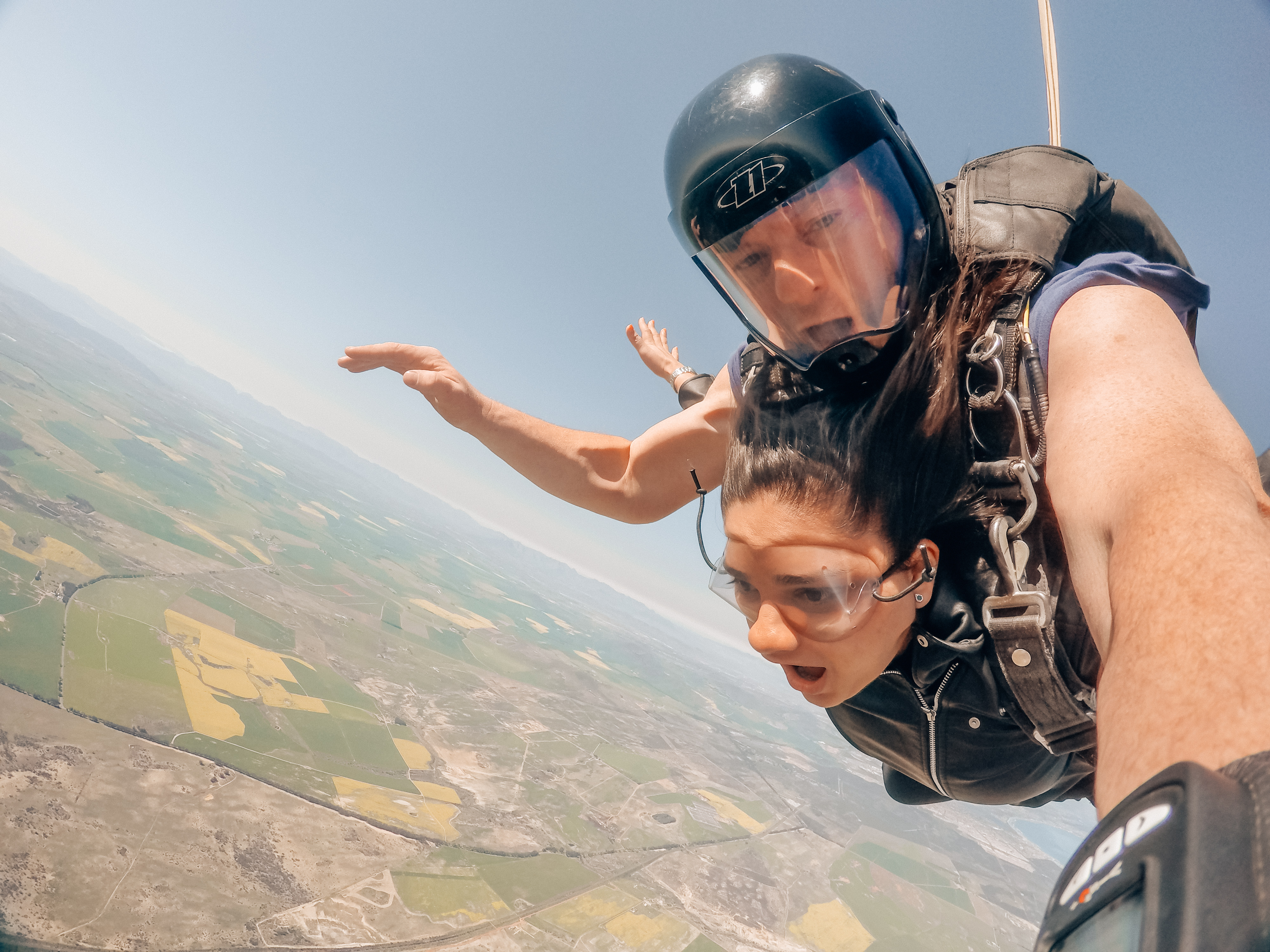 The diver then started doing little chit chat and pointed a few known areas around. The view of the ocean , the sand dunes and Cape town left me in awe. I was more at ease by now as we were closer to the ground.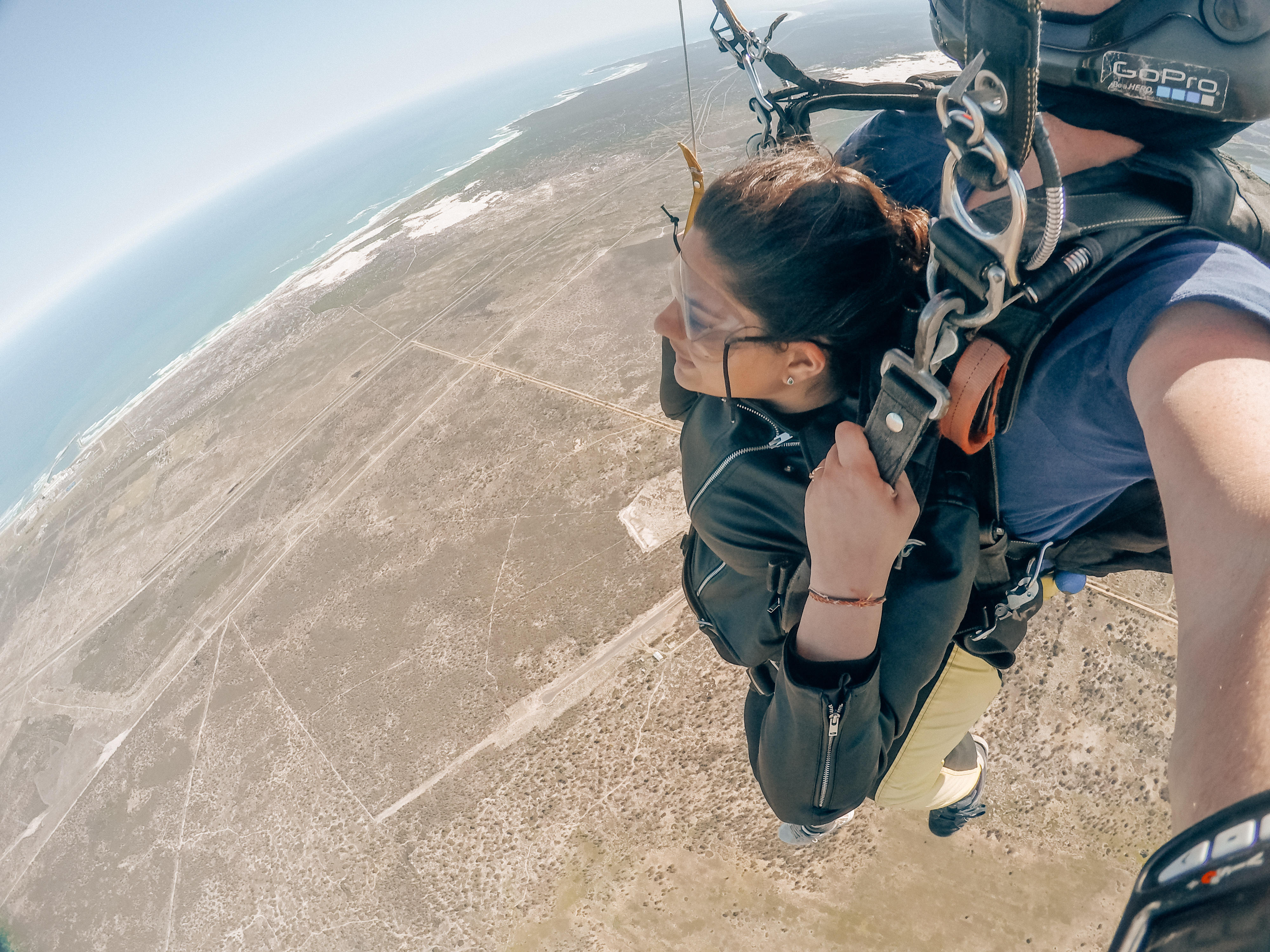 Touch Down & The Fall!
The diver started giving me instructions on how we were going to land. Since we are tied ahead, we have to land first and then the diver lands. I was instructed to make a run and land. My head was still wrapped up around the dive I guess and when we were about to hit the ground, my feet buckled under me. Yup, you read that right. So what happens next?
We fell sideways when we landed.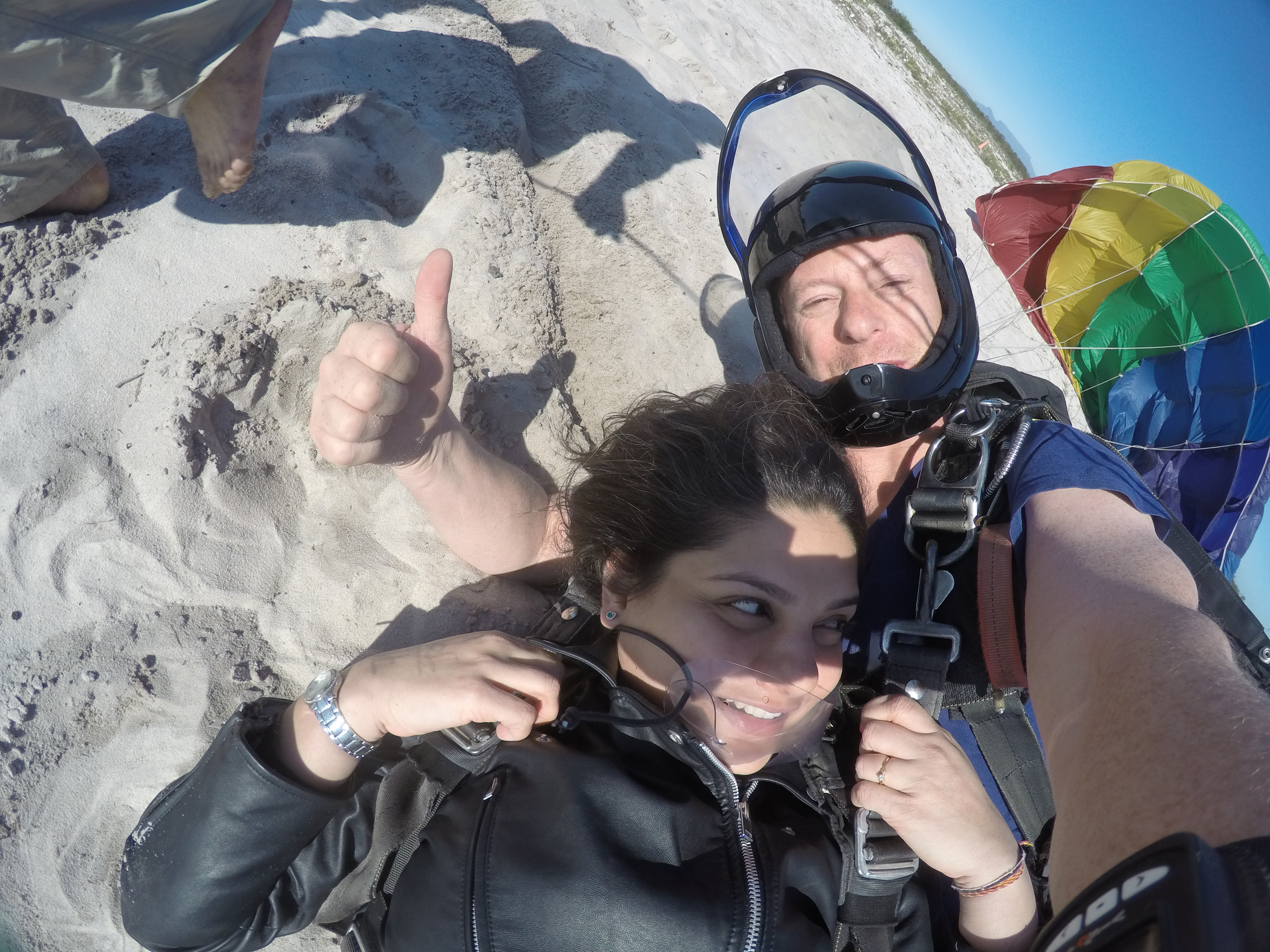 Luckily, the landing takes place in a sand pit so we didn't hurt ourselves. The other divers around and my friends rushed towards us to see if we were alright. I apologized profusely and the diver started removing the harness. We both gave a big smile in the camera one last time before we parted ways.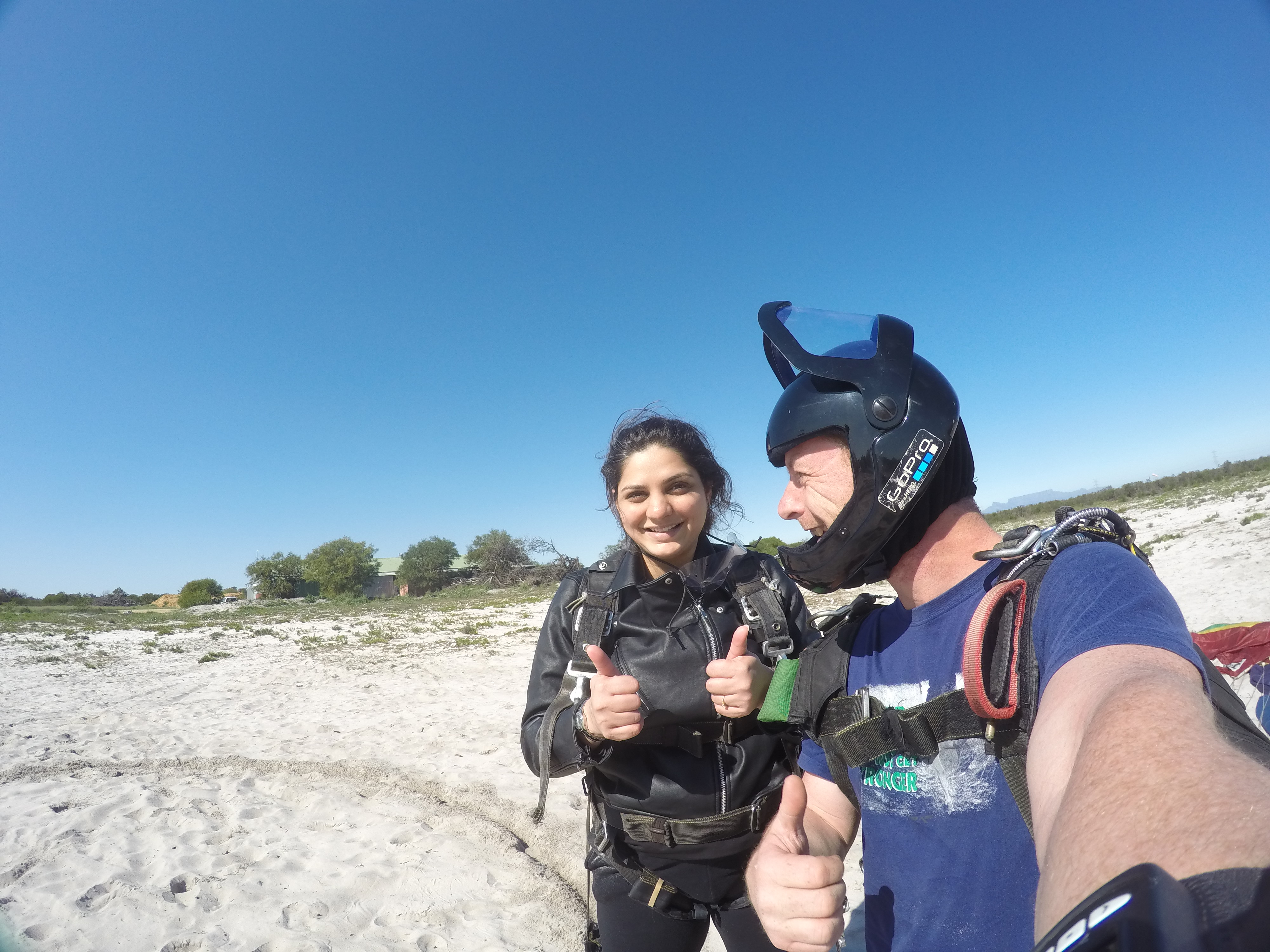 My friends and I then waited in the lounge area for our photos and videos to be processed. They show you your pictures and you are free to go then.
Time taken for the whole experience:
The drive from Cape town : 40 mins
In the hanger before your dive: 2-3 hours
In the plane: 30 mins
The Dive: 30 seconds
The paragliding : 4-5 mins
Things to note for Sky Dive in Cape Town
Don't eat before the skydive in Cape Town, you do not want to be sick
The safety measures are in place so you need not worry about it
You can dive only if you weigh less than 100 kgs
Wear comfortable well fitted clothes e.g. Jeans/ Slacks and T-shirt. You must wear sports shoes. Goes without saying slippers/ heels should be avoided.
You are not allowed to take your mobile phone or any camera on the plane. Hence its better to opt for the photo/ video option. Hey you don't want to sky dive and not have any recorded memories of it right?
Adventure of a lifetime
I Skydived once would I do it again? Maybe not! Who knows?
But I can tell you one thing, its something you must tick off your bucket list once. This will leave you with some fond memories of South Africa too.
I can finally say with pride
Sky Dive: CHECK!