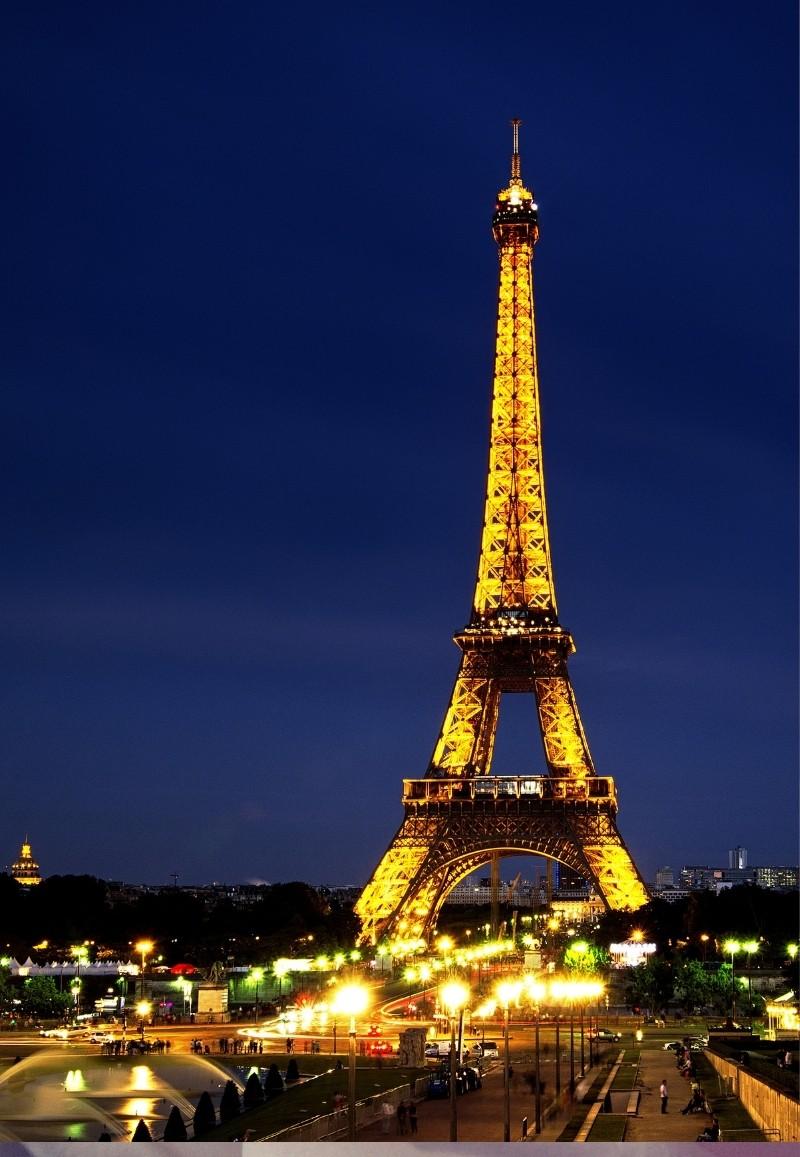 Hello People,For those of you who don't know me my name is Jes and I love to travel. Budget constraints and the pain of going through various blogs can be tiring and exhausting.
Here's my 2 cents on how you can go about planning the perfect 2 weeks Paris & Italy Itinerary. Lets begin!
Why Italy?
People world over have always been fascinated by Italian history. Imagine yourself lazing around at a beach at Cinque terre and Positano ? Italy can cater to a person looking for beautiful beaches and sunsets to someone who loves history to infinite wining & dining options. Well Personally, I was more excited for the wine & cheese
Places I traveled to included Venice, Florence, Cinque Terre, Amalfi Coast and Rome. Highlighted the same on the map below.
[googlemaps https://www.google.com/maps/d/embed?mid=1vU2MZ4EEFf5VeiUjNTuIWEs2uvRJFcGD&w=640&h=480]
Which month to chose?
We decided to go with September so as to avoid the rush of the summer season from May to July and to bring down the overall expense. August is a month when Italians go on a holiday so you will find most shops closed.
So how do you plan?
Here's a step by step account of how we planned for the trip & our honest / candid opinions.
Step 1: Flight Tickets
Getting your flight tickets in place. Book atleast 3-4 months in advance to get good deals. Flights are generally cheaper in Sep & Oct and the temperature in both these months is warm to pleasant with little showers on few days.
Step 2: Accommodation
Book your accommodation in advance to avoid last minute booking that will shoot up the cost. We prefer Airbnb or booking.com . For this trip most of our accommodation was Airbnb and the average cost per night was 75 €. We selected accommodations based on their connectivity with access to central train station & Metro and at the same time not being far from the downtown. More on it later..
Step 3: Book your train tickets
We did all our train ticket bookings in advance to get best deals and we did end up receiving 1+1 promo offers 🙂 We preferred using Trenitalia over Eurorail as we were travelling within Italy itself. Moreover we did not buy any pass for the same reason. There are 3 types of trains namely;
Frecciargento – Fast train – expensive – reaches in shortest possible time
Frecciarossa- Fast train – expensive – reaches in shortest possible time
Regional Trains – Fast train – cheap – Takes time.
Tip: Chose the trains that do not have many haults as you will not want to drag your bags from one station to another.
Step 4: Book your monument tickets in advance
If you plan on visiting the historical monuments then you must book the tickets in advance. The tickets to places like the Eiffel tower top floor and Florence duomo tend to get sold out.
Day 1: Paris
To do: Upon arrival at the airport we purchased a carnet from the tourist Information counter at the airport (10 tickets approx costing 15 €) These tickets can be used on a metro, bus etc. Note that you have to validate/ punch the tickets before getting onto the Roissybus. The bus takes an hour to reach Opera ( last stop)
Travel: We travelled by Roissybus (13 € per person) to the bus stop called Opera. The metro station is 5 mins walking from Opera Bus stop.Note: to take the metro you have to take 3 floors of escalators.
Apartment: Air bnb (85 € per night). Always book an apartment that is within walking distance from the metro to for ease of travel Our apartment was a mere 5 mins walk from the metro stop 🙂
Sightseeing: We kept it light the first day by just visiting the most anticipated "Eiffel Tower".
Entry Fee: Top floor: 50 € for 2 pax
Duration to visit: 2 to 3 hours
Booking link: https://www.toureiffel.paris/en/rates-opening-times
We had pre booked our tickets to the Summit for 6.30 p.m. The sun set in Sep was of 8.15 p.m. So we got plenty of photo shots and the weather was warm. I didn't fancy Paris instantly on arriving however that changed once we reached the second floor of the Eiffel. The views were surreal. The mammoth structure leaves you awestruck.
Tip: We would suggest to skip the Summit as the same has grills all around you that restrict pictures. The second floor views are far better.The infamous Eiffel Tower shimmer strikes exactly on the hour and when we got down at 9 p.m. to view the same it left us spellbound.
Post that we headed for dinner (approx. 25 € for 2 pax) at a local Parisian restaurant offering Italian food. We had an amazing pasta with tomato sauce. Then it was time to call it a night..
Spending more days in Paris ? Read Daniks detailed guide on First time guide to Paris
Day 2: Paris
Notredame Cathedral:Entry Fee: Free
Duration to visit: 45 mins to 1 hour
Travel: The closest metro station is Cluny – La Sorbonne (line 10). 550 mts to Notre Dame about 8 mins walking. Use carnet as mentioned earlier. The cathedral for me for the highlight of the trip. I instantly fell at peace upon entering the cathedral.
Tip: You are required to cover yourselves from the shoulders and below the knee.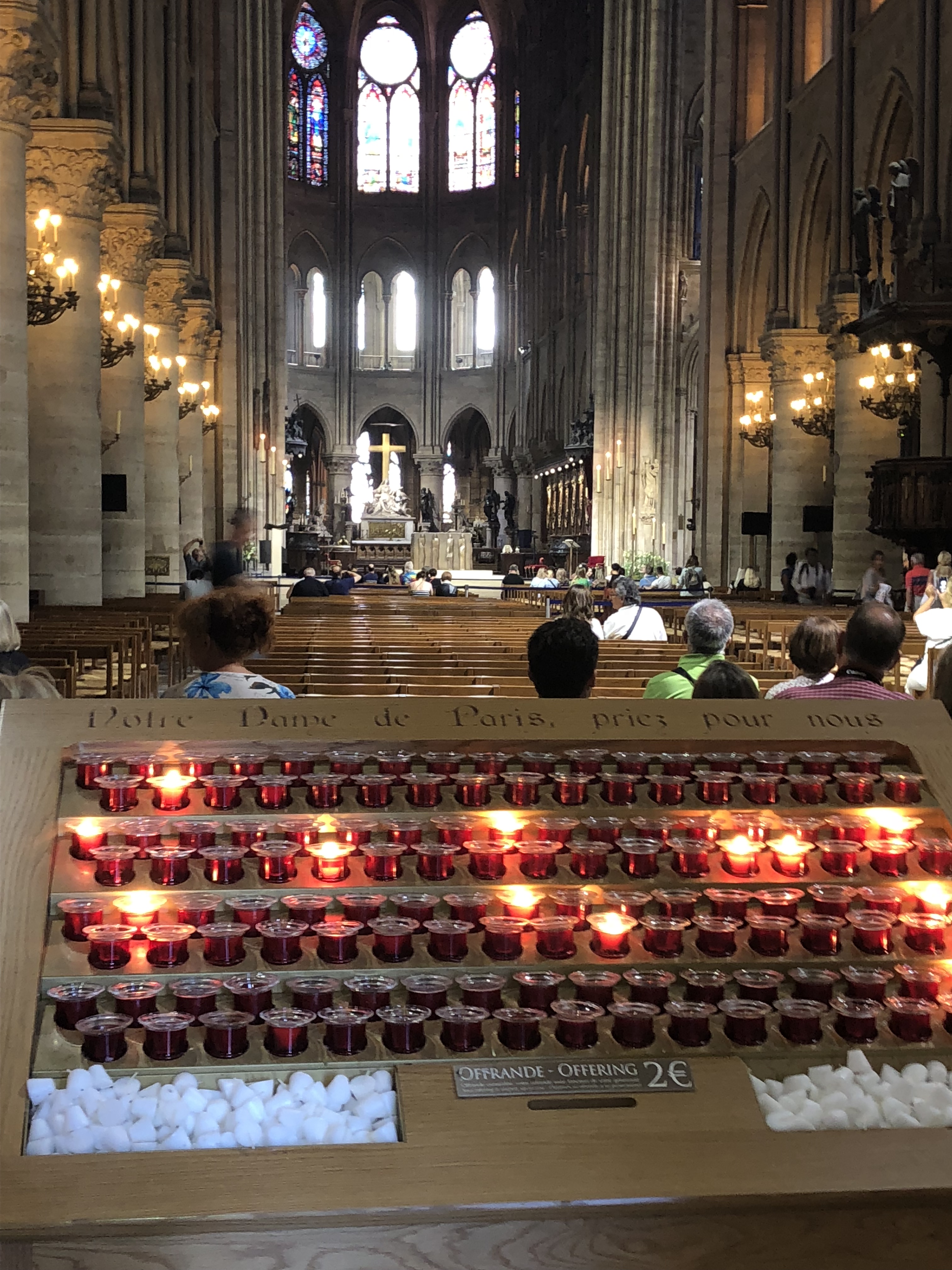 Saint Chapelle:
Entry Fee: 10 € per person
Duration to visit: 40 mins to 1 hour
Booking link: http://www.sainte-chapelle.fr/en/Prepare-for-your-visit/Pratical-information#price
Travel: Walking from Notre Damn cathedral. Takes approx. 15 mins. The cathedral is from the 13th century and the 12 large windows each depict a beautiful story.
Tip: Head to the Flower market opp the chapelle, Dauphine square, Pont des Arts ( infamous love lock bridge) which are all within 10-15 mins walking distance.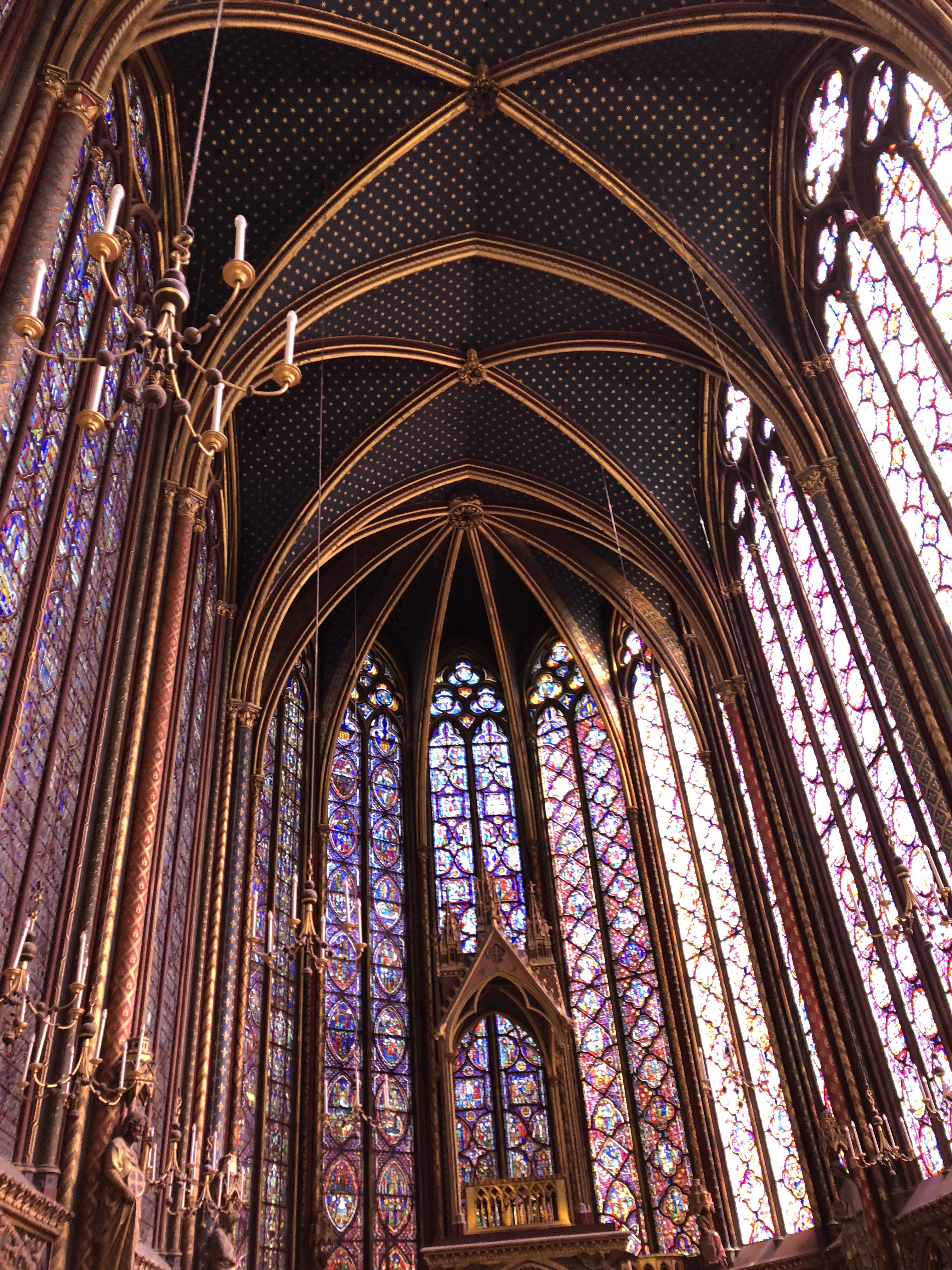 Patheon:
Entry Fee: 9 € per person
Duration to visit: 40 mins to 1 hour
Booking Link: http://www.paris-pantheon.fr/en/Prepare-for-your-visit/Practical-information#price
Travel: Walking from Notre Damn cathedral. Takes approx. 15 mins. The cathedral is from the 13th century and the 12 large windows each depict a beautiful story.We also visited the crypts do voiltare.
Food: We didn't stop for lunch and just grabbed a sandwich from a local bakery.
Lastly, being exhausted from all the walking we sat on the pont de arts bridge. The warm breeze on our faces and the bright sunshine meant a perfect opportunity to click some pics.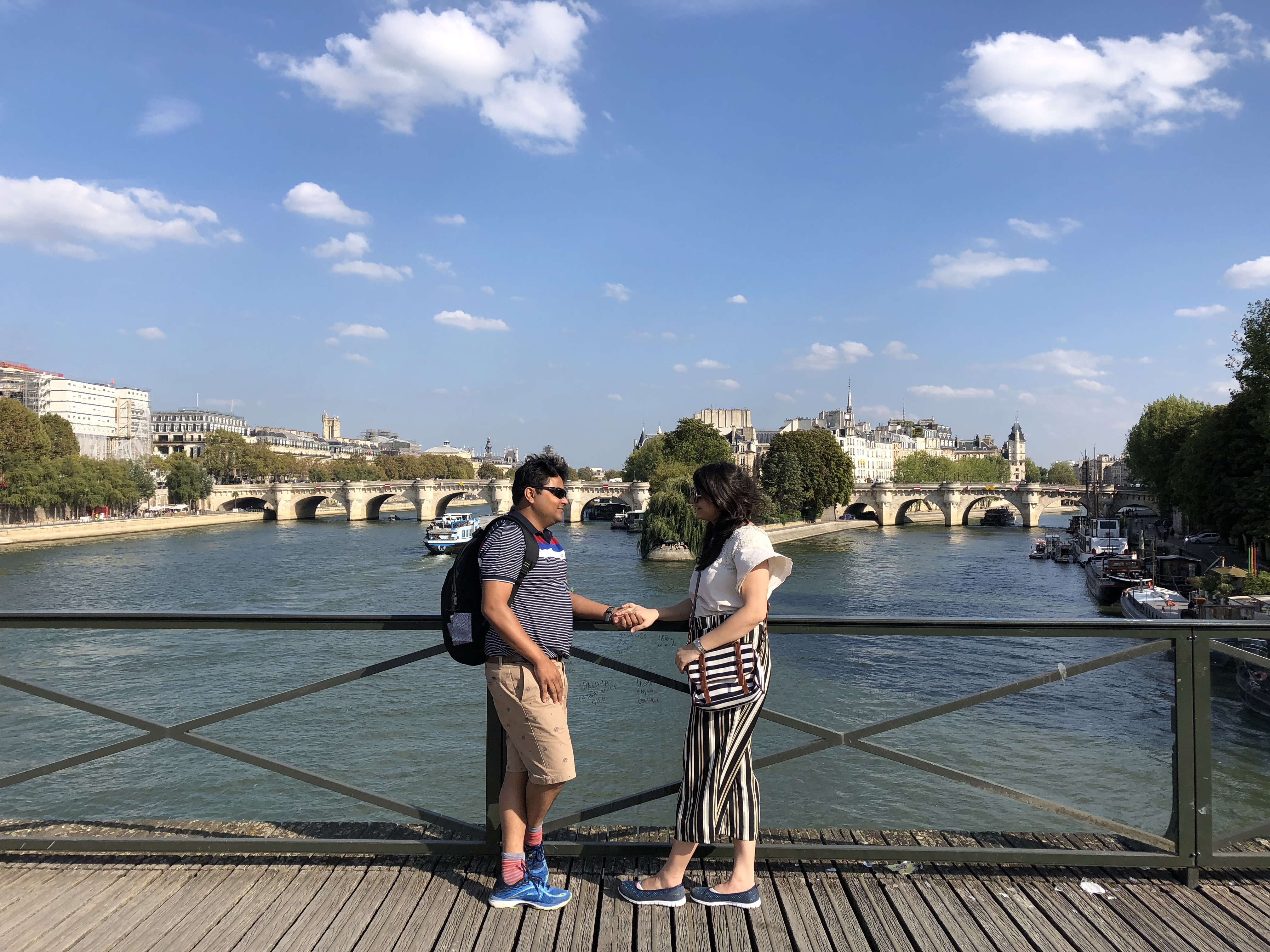 Muse Lourve:
Since the lourve was righ next to the pont design arts we went there by 4 pm. Sitting relaxed at the fountain is a memory I cherish
Entry Fee: 16 € per person
Duration to visit: 2 to 3 hours
Booking link:https://www.ticketlouvre.fr/louvre/b2c/index.cfm/calendar/eventCode/MusWeb
Day 3 : Paris
We were all geared up for what was in-store for us. We started off by walking directly to the Eiffel tower to ride the Bateaux river cruise. The cruise runs across Paris and shows all the important sites such a lourve museum, notre dame cathedral etc.Entry Fee: 15 € per person
Duration to visit: 1 hour
Booking link: https://www.bateauxparisiens.com/en/cruise-tours/guided-tour.html
Timing: 1 hour
We headed for lunch at a local eatery and gorged on the awesome food. The items depicted in the pic are Mozerella tomato, Arrabiata Pasta and Mozerella pizza with olives.
Post lunch we took a bus and headed to Opera Metro stop where we got lost in the world of lint 🙂
We walked back to our apartment and called it a night as we were next headed to the beauty that's Venice!
Day 4 : Venice
Travel: We took an early morning 5.30 am Roissy Bus from the Opera stop. Though the metro starts running from 5 am we decided to take a cab instead to Opera stop. We took a flight to Venice and make bookings via Easyjet.comUpon arrival at Venice we took an ATVO bus (Approx 8 € per pax) to Piazzale Roma. From there we took a vaporetti (approx. 14 € per pax). We luckily had booked an apartment via Airbnb near Accademia stop so we had to cross only 1 small bridge :)After freshioning up we headed to the infamous Rilato bridge that was just 10-12 mins walk from our apartment.Note: Venice is always very crowded though you will find a lot of small cute bridges where you can pose for pics 🙂Rialto Bridge
Piazza San Marco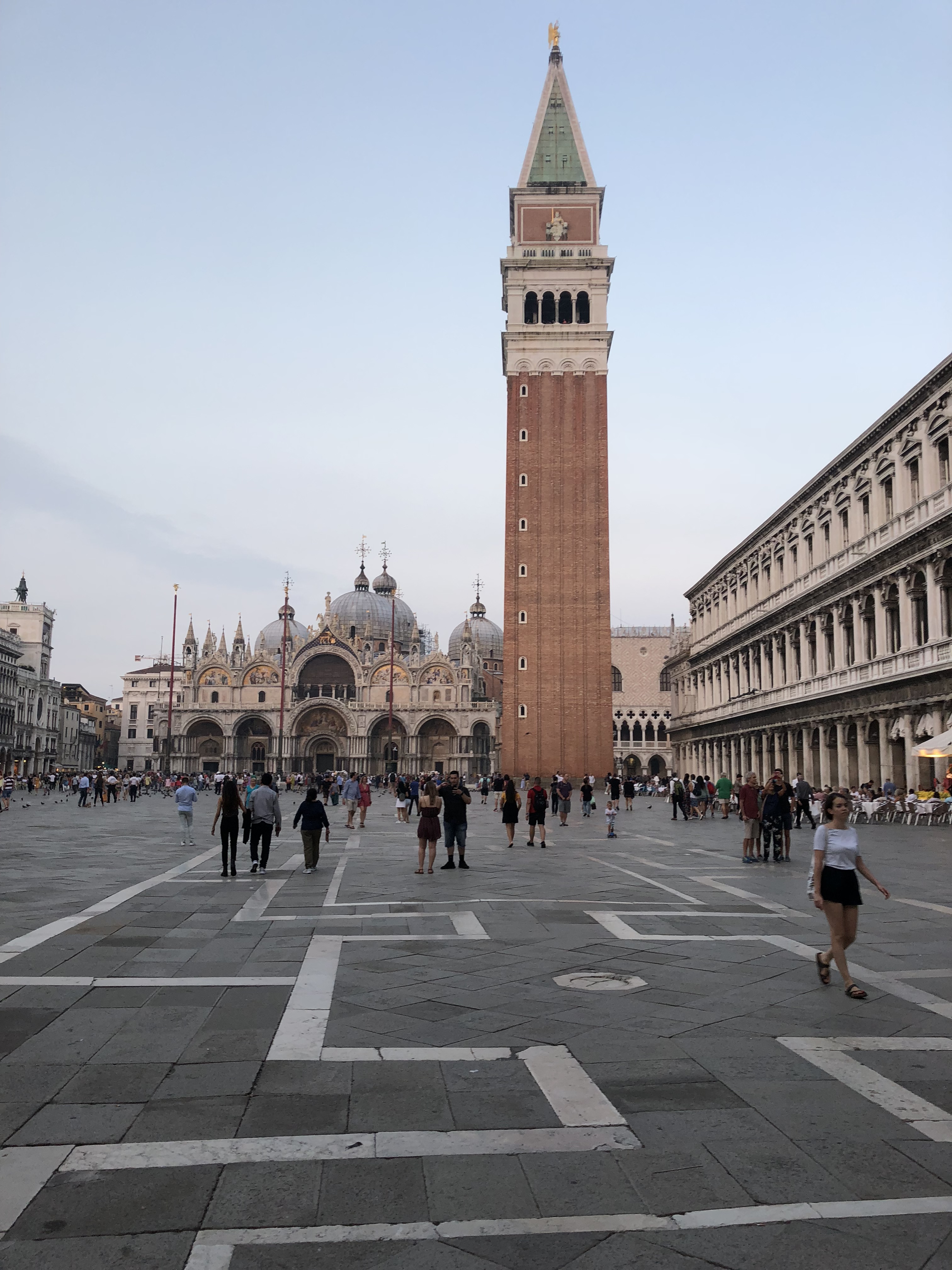 Visit it during sunset to enjoy the beauty of the place. You can also visit the following:
Doges Palace: Open from 8.30 a.m to 7 p.m. Entry fee: 5 € per person
Basilica di San Marco: Open from 9:45 am – 4.45 pm. Entry fee: 5€ per person
Bell Tower: Open from 8.30 a.m. – 8.45 p.m. Entry Fee: 8 € per person
We ended the day with some wine and lots of pizza.
Tip: We went walking towards a residential area in venice to try out one of the oldest gelato parlour named "Alaska". The gelato is made from seasonal ingredients and we had an orange flavoured one which was delicious and its only for 1.5 €
Day 5 : Venice to Cinque Terre
It was time to bid good bye to venice and head to the place that made me plan this trip in the first place – Cinque Terre. Its also called as 5T.
Travel: We headed for the vaporetti from our air bnb apartment and from there to the train station named Santa Lucia. The train station at 5T is called La Spezia. We boarded the Frecciargento at 13.25 pm and arrived at La Spezia at 18.20 pm
Stay: Our apartment booked Booking.com was a short 10 min walk from the station. We stayed at Federici Stairway affittacamere
Booking link: https://www.booking.com/hotel/it/dream-house-la-spezia.en-gb.html?aid=304142;label=gen173nr-1FCAEoggI46AdIM1gEaGyIAQGYAQm4ARfIARTYAQHoAQH4AQuIAgGoAgM;sid=d1871b90d2260a1214c9c3d0bb51b9b5Use this code and get a 10% off your next booking with booking.com 🙂https://www.booking.com/s/57_6/jesal041We called it a day by visiting the local market of La Spezia and some much needed rest before the trek for the next day.
Day 6 : Cinque Terre
The 5T consists of 5 fishing villages namely Riomaggiore, Manarola, Corniglia, Vernezza& Monterosso.
Travel: Travelling to the 5 T via train is by far the cheapest and most convenient option. 1 day CT Card costs 7.5E whereas unlimited train pass costs 13 E / pax. It includes the Ecological park bus, Trekking paths, free access to the washroom & wifi connection at the station. Each station is at a distance of 5-7 mins from each other via train The best way is to get down at one village, explore the same and then take the train back to the next village.
The treks are only available for the following:
Monterosso to Vernezza 3.5 kms. Time:1.5 hours. Level : Average
Vernezza to Corniglia : 4 kms. Time: 1.5 – 2 hours. Level : Average
Note: The trek offers a paranomic view of the village however its surely not for the faint hearted 🙂L
It was time to give some rest to our aching feet so we sat down at a restaurant overlooking the sea and munched on some pizza :)Tired from the 2.5 hour trek we made our way back to La Spezia and had dinner locally.
Day 7 : Cinque Terre
Today it was time to explore the most famous and the most picturesque town of the 5T – Manarola. We took a train to Manarola from La Spezia at 11 am. The crowds settle down by this time. Being sep it was extremely hot so note to carry water and some juices with you.Manarola was right out of a Mills & Boons book. The blue sea, people diving in the water, some artist drawing sketches are common sights in Manarola.
Food: We visited this café named "Nessum Dorma" that offers the most scenic view of Manarola. Do try their fresh orang juice and bruschetta. The below pic is from the cafe
Post Manarola it was time to explore Riomaggiore. It was around 5 pm and we headed to the beach right next to the train station to relax and unwind.
It was time to bid goodbye to the 5 villages and head to La Spezia for our final night in the 5T.
Day 8: Cinque Terre to Pisa & Florence
For those of you how do not wish to spend a night at Pisa can consider going to Pisa from 5T and then heading to Florence.
Travel: We took a Trenitalia regionale from La Spezia to Pisa Centrale and reached in approx. in 1.5 hours.
Luggage: Store the bags at the Pisa Centrale and head for the leaning tower of Pisa. There is a left luggage office where you can store your bags. You may need to show ID, the charge is about 10 euros/bag for some 4-5 hours of time and then additional charges after that.
Note: You can either walk or 20 mins to reach the leaning tower of Pisa or cycle to the same. Cycles can be rented from the luggage room.
Monuments Visit: No ticket is needed to visit the field of miracle and view the leaning tower of Pisa from outside Duomo is free.
The Cathedral, though it has a free entrance still requires a ticket to enter. You can use your Leaning Tower of Pisa ticket for entry. The Baptistery and Camposanto require separate tickets for entry.
Tickets to climb the Leaning Tower of Pisa cost €18 (€32 if you book online in advance).The tower is 300 steps.
Booking link: http://www.towerofpisa.org/tickets/We then headed back to Florence via Trenitalia Regionale and reached Florence in 1.15 mins approx. We had booked an Air bnb that was 10 mins walk from the station.
Day 9 : Florence
It was a sunny day and we made our way to explore numerous places that Florence has to offer. Being a small city it is easy to walk and explore the whole place.We first made our way to the infamous and the most beautiful piece of Art "The Duomo". Its a pleasure to watch the intricate details on the exterior and just sit and soak in its beauty.
It was time for some much needed Icecream. We headed to one of the oldest parlous in Florence named " Perche No?" meaning "Why not ?" Do try the seasonal flavours when you do visit this place. Another favorite parlour of ours was "Venchi".We then headed to the " Ponte Vecchio": The bridge that has connected the river banks exactly at this point since the 12th century!
We then headed for some much needed therapy. Yes you got it right! Shopping Therapy 🙂 All the high end brands that you can think of have their shops in the centre. We headed to H&M and Zara and got some great bargains.There was this café named " Cafe la Posta" near the main shopping area. We sat exhausted from the shopping & to try out some amazing savories and desserts.
We spent some time at the centre and then called it a night.
Day 10 : Florence
It was time to have a paranomic view of the city of Florence and what better way than to head to the Giotto's bell Tower.
Tickets: Its cheaper to buy a multiple pass/cumulative ticket that gives access to the following:
Cathedral: Open from 10 a.m to 16.30 p.m.
Dome: Open from 8.30 a.m to 17.00 p.m
Baptistry: Open from 8.15 a.m – 18.30p.m
Bell Tower: Open from 8.15 a.m. – 19.00 p.m.
Crypt: Open from 10 a.m to 16.30 p.m.
Museum: Open from 9 a.m. to 19.00 p.m.
Entry Fee: 18 € per person
Duration to visit: half hour to 1.5 hours per monument
Booking link:https://grandemuseodelduomo.waf.it/en/cumulative-ticket-great-museum-of-the-cathedral-of-florence
After having dinner locally we headed back to the apartment.
Day 10: Positano (Amalfi Coast)
Travel: There are 2 ways of going to Positano, either through Sorrento or through Salerno.
Option 1: from Salerno – Sita Bus (2.5 hours) – You should head to terminal bus, which is located in via Vinciprova. It is only 10 minutes walking from the main station. (4 € per pax).
Option 2: from Salerno – Ferry will take 1.15 hours and will cost 12€ per pax.
We thought it better of going through Salerno, taking a boat and reaching our much awaited destination Positano!We took a Frecciarossa from S. M. Novella to Salerno that took 3.5 hours. Take a ferry from Concordia ferry dock. The ferry dock is 500 M by walking and wont take more than 15 mins.
Note: Ferry runs only if the weather supports. If the ferry service is haulted then the only 2 other alternatives are the Sita Bus or private taxi.
Stay: We couldn't have asked for better host. We stayed at this BNB named " La Tavolozza Residence" managed by 3 power packed ladies.
Booking link: https://www.booking.com/hotel/it/la-tavolozza-residence.en-gb.html?aid=304142;label=gen173nr-1FCAEoggI46AdIM1gEaGyIAQGYAQm4ARfIARTYAQHoAQH4AQuIAgGoAgM;sid=d1871b90d2260a1214c9c3d0bb51b9b5
Use this code and get a 10% off your next booking with booking.com 🙂https://www.booking.com/s/57_6/jesal041
We headed to this restaurant called " Bruno" . The staff is pretty rude! However the view is mesmerizing.
Food: Cost for 2 people with 1 drink and 2 dishes would be around 30 €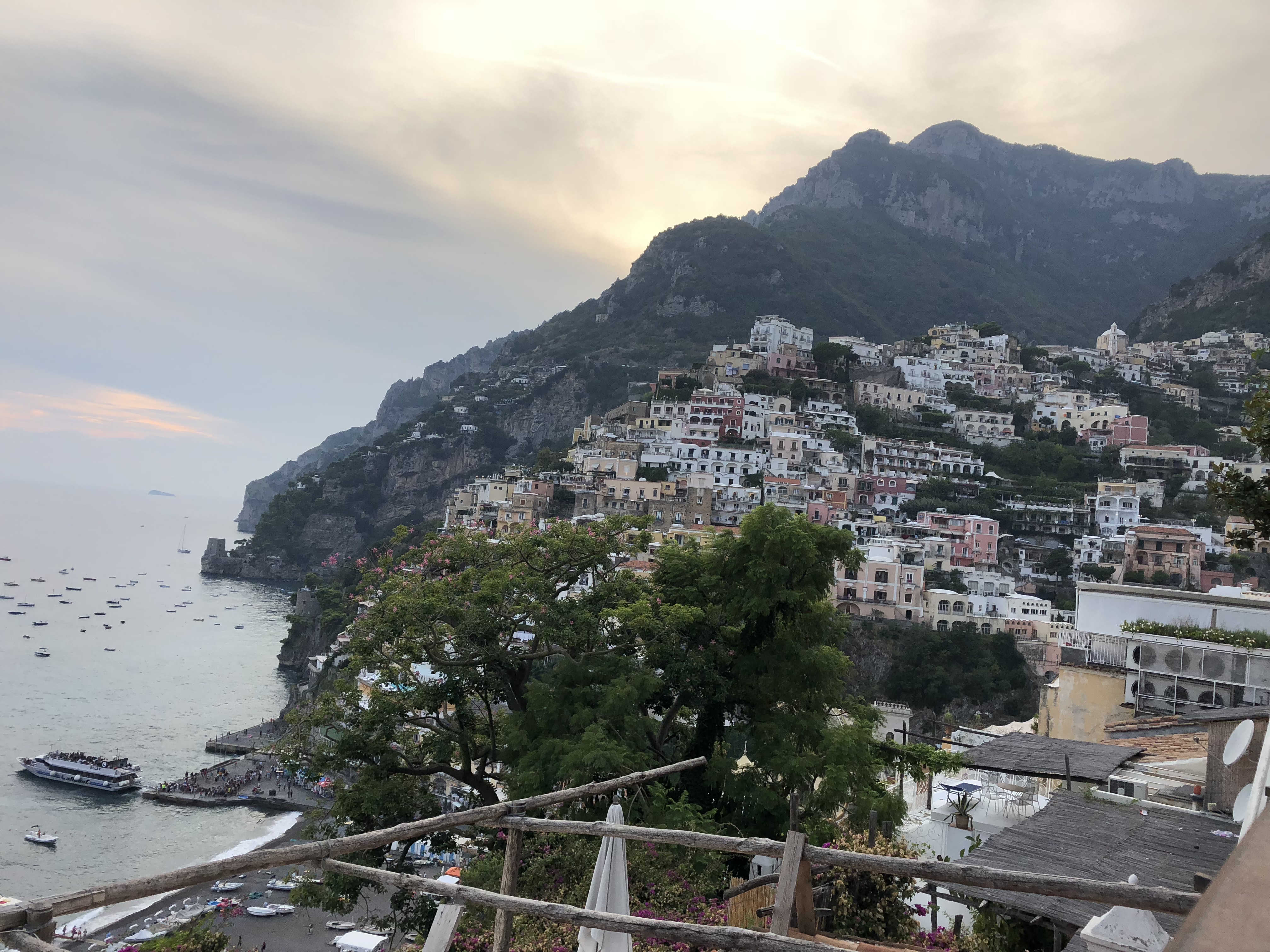 I wish I could have taken a few more pictures of this heavenly place but we were so absorbed in the beauty then we were just having a good relaxing time and having a much needed peaceful time away from our phone 🙂
Day 11 to Day 13: Positano
We woke u to this view and headed to this place that the locals recommended " La Zagara" which was 2 mins walk from our Bnb DO NOT MISS going to this place! Period! The desserts are heavenly and the place has some of the most stunning views!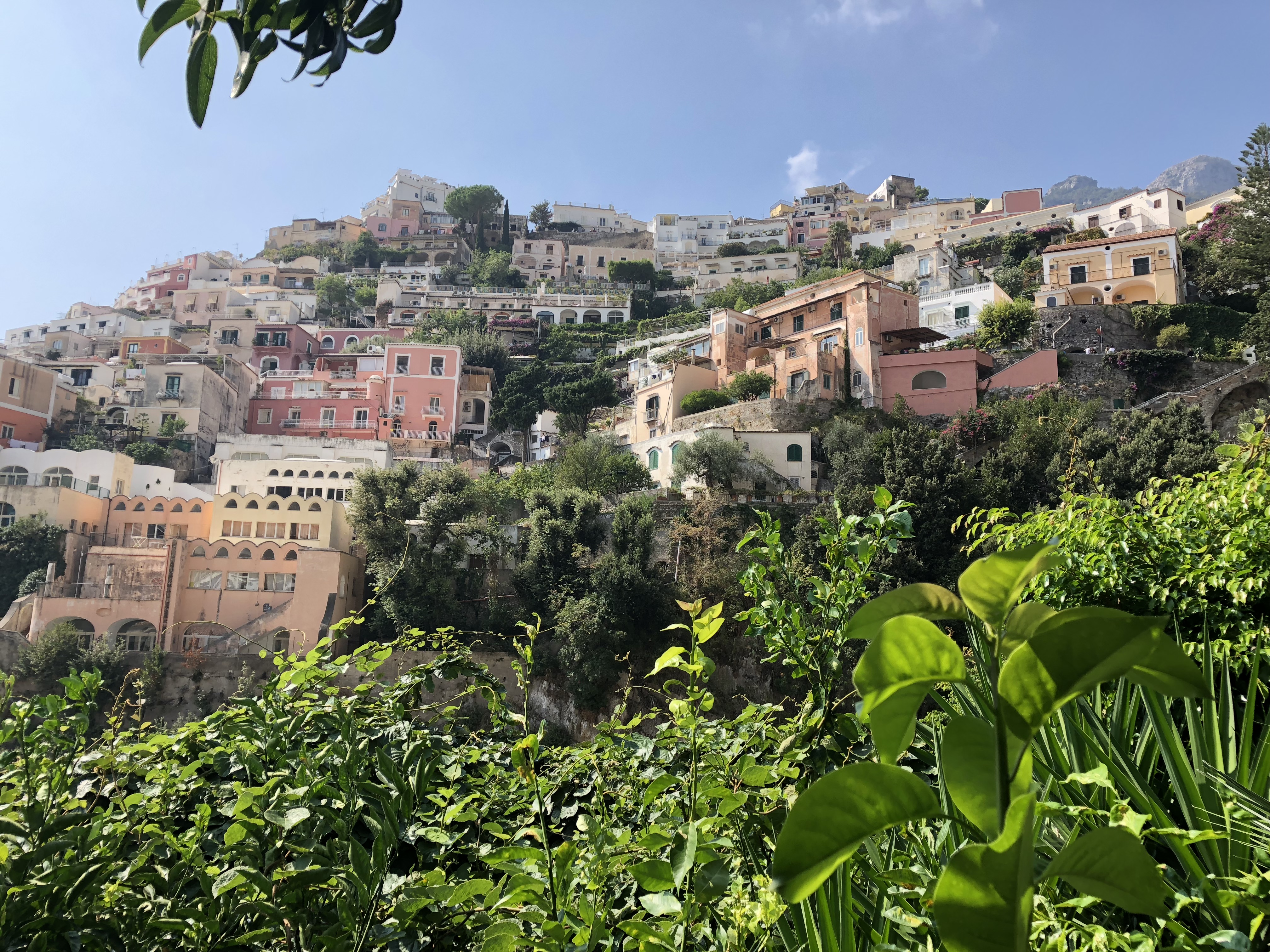 Do you want to see the desserts we had 🙂
This was our cycle for the next 2 days, eat , drink, swim, walk, sleep repeat!It was time for the last leg of the journey : ROMA.
Day 14: Positano to Rome
Travel: It was unfortune that the ferry service wasn't working due to stormy waters so we had to go to Sorrento via Sita bus (that being the most economical option)
Cost: 4 € per pax
Alternate Travel options with cost :
Leave from Positano to Rome by Marozzi VT Bus service that departs from Positano Station. (Approx Cost 21

€

per pax)
Second Option is go to Naples (Take the circumvesuviana train from Sorrento and take a Fast train to Rome).
Third option: Take a private transfer from Positano to Naples (110 euros) and from Naples by train to Rome.
Fourth option: Shuttle bus SITA bus from Positano to Naples. Time: 2.5 hours. Price: 3 € per pax
Note: It takes 90 mins to reach Salerno so you may want to go for the private bus or splurge on a taxi which can cost approx. 100 €We arrived at Sorrento and then headed to catch the Circumvesuvianna (8€ per pax)that took over an hour to reach Naples. From Naples we took a train to Roma (46€ per pax)
Stay: We arrived at our Air bnb at Roma. We took a metro (1.5€ per pax) from the Roma terminal.
Day 15: Rome
Trevi FountainTravel: We took a metro to visit the Trevi Fountain. The nearest metro stop is Barberini which also happens to be 10 mins walk from the Spanish steps. Again most of the monuments in Rome are within walking distance of 1.5 to 2 kms.
Entry fee: Free
The trevi is beautiful. Unfortunately when we visited it, it was under maintenance though that did not stop the crowds.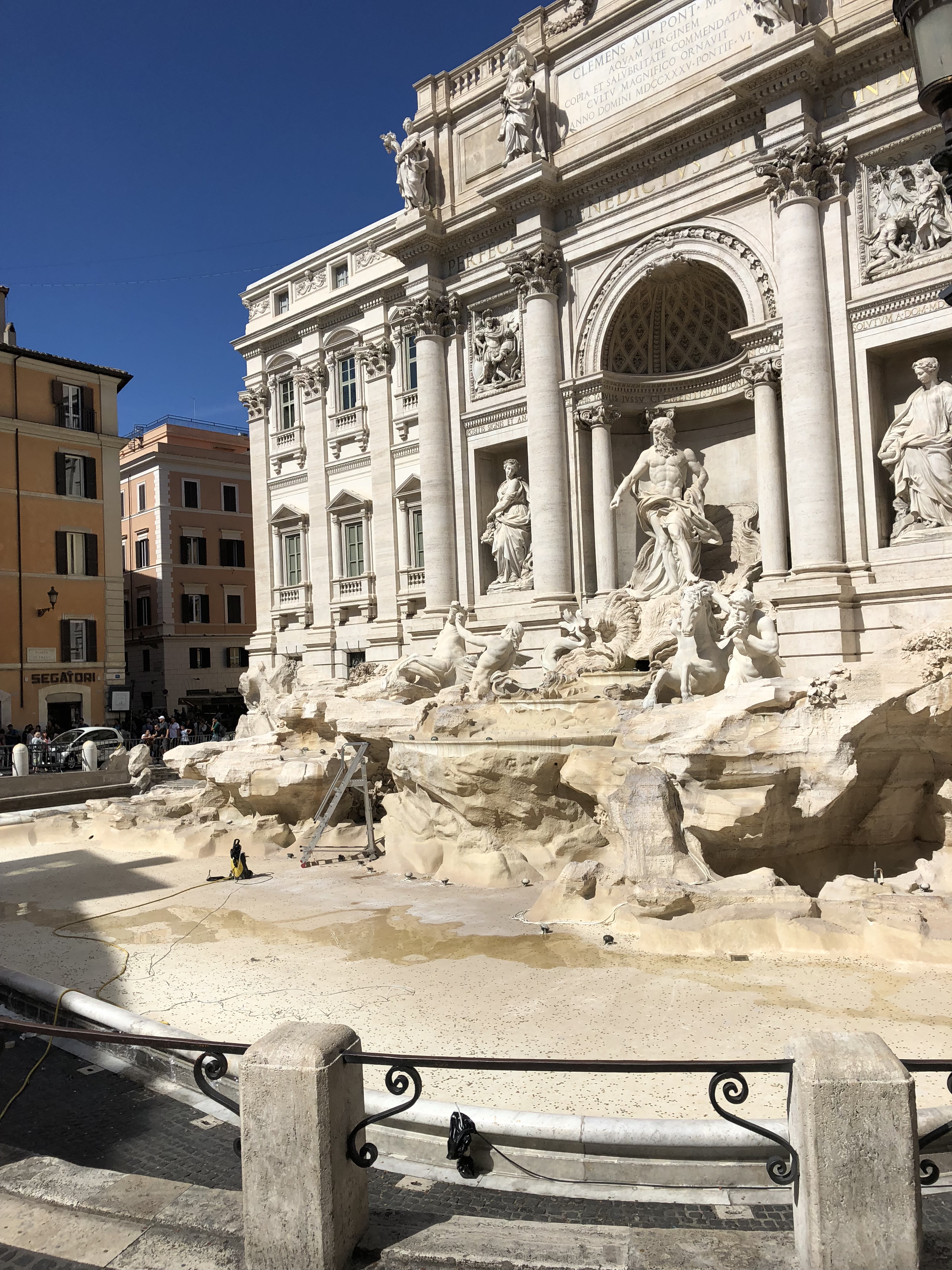 Pantheon
Travel:Its a 10 min walk from the Trevi.
Entry Fee: Free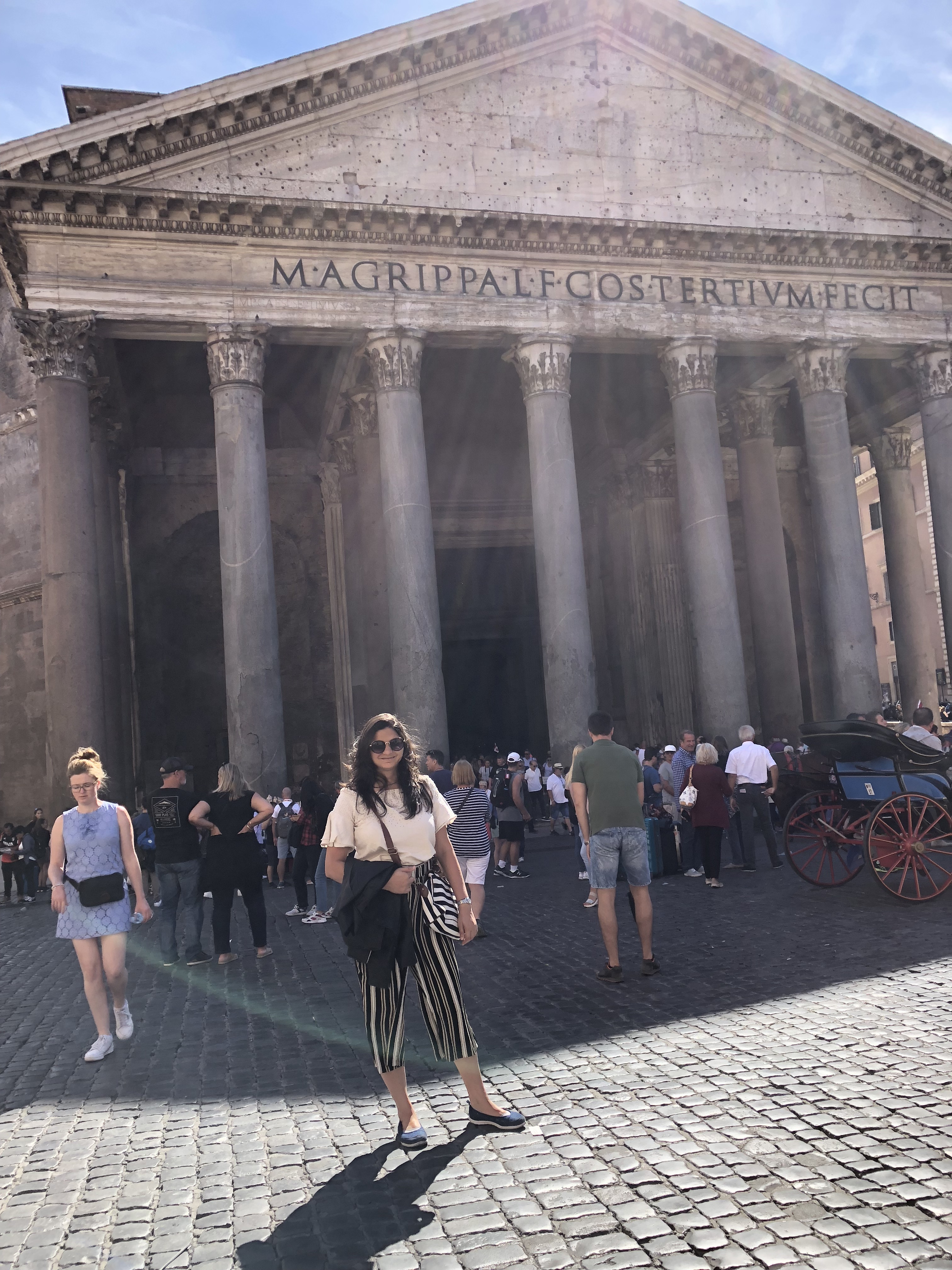 We walked to a lot of places around Rome and stumbled upon some beautiful churches
Colosseum
Travel: The walk from the Pantheon to Colosseum is approx. 20 mins. We took a bus instead from Pantheon to the colosseum. Note the ticket needs to be bought from a local tabacchi (local store that may be called bigletti). It cost around 1.5 € per pax.
Cost: 12 € per pax. (additional 2€ online booking fee)Booking link :http://ecm.coopculture.it/index.php?option=com_snapp&view=products&catalogid=A4CC149C-BEE1-5773-5E59-01675F3EA81C&snappTemplate=template3&lang=enDuration: 1.5 to 2 hours
We walked back to our apartment and had dinner locally.
Day 16: Rome
The VaticanTravel:
We took a metro till Ottavio which is the closest metro (5 mins walk) to the Vatican.
Entry fee:17 € per pax (additional 4€ online booking fee)
Booking link: http://www.museivaticani.va/content/museivaticani/en/visita-i-musei/scegli-la-visita/visitatori-singoli.html
Access: Museum & Sistine chapel
Tip: We went during world tourism day so the entry for us was Free.
It was time to bid adieu to Rome and Italy. We had an early morning flight for Mumbai and just like that our lovely trip got over.
My Opinion: Italy was a good destination, A One time visit for sure. If you plan on going to Italy then do make it to the 5T and skip Positano if you are on a budget.I hope this article has helped you in some way. Please feel free to write to me or leave a comment below. I would love to hear from you :)Stay tuned for my next article. Until then see you…(All rights reserved) The above mentioned article is subject to copyright ©