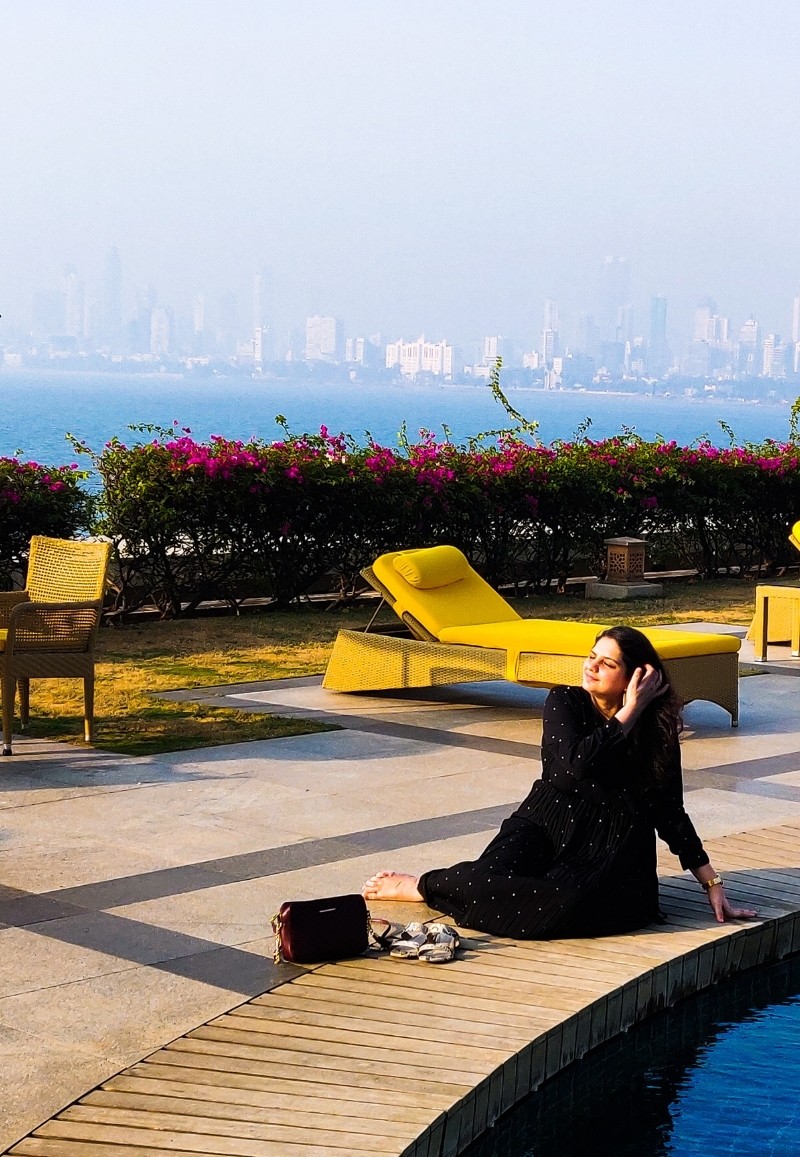 5 star hotel in Mumbai: Trident Nariman Point Review
Living on the 29th floor with stunning view of the Arabian sea and a birds eye view of the Queens necklace is an experience one can indulge in by staying at the Trident Hotel Mumbai. Its a 5 star hotel in mumbai.
Being a Mumbaikar I always fancied Trident Hotel Nariman point but the idea of a staycation never crossed my mind. Aamchi Mumbai has some amazing 5 star properties and Trident being one of them, I decided that I had to go and experience the hospitality. Boy was I glad I did ! Else I would have surely missed out on experiencing the stay of a lifetime in this best hotel of Mumbai.
---
History of Trident Mumbai hotel
Founded way before India's independence in 1934, Trident hotel is a part of the mega conglomerate Oberoi group that has presence across 7 countries and has properties under either the luxury brand " Oberoi" and 5 star brand "Trident"
Out of 32 hotels, 10 hotels are in India. Trident hotels being known for their exceptional quality and service, it comes across as no surprise that they are a preferable choice for business and leisure stays. It's the best hotel in Mumbai.
---
Location of Trident, Nariman point
Situated in the heart of Mumbai, soaring over the skyline of Mumbai stands this 5 star hotel at Mumbai:  Trident. Nariman Point. Offering a spectacular view of Marine drive.
Trident is where the Arabian sea meets the sky.

All the important landmarks and shopping areas are in close proximity of the hotel making it the best hotel in Mumbai for stay. The famous Gateway of India, Colaba Causeway, Girgaon beach are only a 15 minute ride from the hotel. 
---
Cost of Travel/ How to reach Trident Mumbai
From the Airport
It is approx 25 kms from the International airport and cost of prepaid taxi is approx 800 Rs
From VT Terminus
If you are coming by train then you will have to step down at the Chhatrapati Shivaji Terminus. Grab a yellow and black taxi stationed right outside the terminus. The ride wont take more than 20 mins and cost should be based on meter readings.
Tip: The taxi driver may try to extract more so please insist on paying by meter.
---
Safety Measures taken by the hotel
Considering COVID times, the hotel spares no expense in ensuring that the safety of the customer is of utmost importance. Standard procedure before entering the hotel is to get your temperature checked. The hotel also ensures that the guests do not gather in crowds to avoid the risk of exposure. Sanitizers are placed on every floor to ensure that the guests stay safe.
---
Hotel Overview
The hotel is built in modern style with ornate flooring and art pieces adorning every corner of the hotel. As soon as one enters the hotel, on the right hand side are full length artistic windows offering a spectacular view of Marine drive and the Arabian sea.
One of the chic restaurants " Verandah " is situated right next to the windows where one can sit and enjoy a cup of coffee 
The USP of Trident is that one side of the building is built with full length Glass windows offering mesmerizing views of the sea and Mumbai Skyline.

This luxurious hotel in Mumbai has whopping 555 rooms and suites that are spacious and come with all the modern amenities.  
Also Read : 5 star hotel in Mumbai : Taj Mahal Palace review
---
Trident Mumbai Rooms
Be it a budget traveler or someone who likes to splurge on a plush suite, Trident offers rooms that cater to the needs of all types of travelers.
The room categories are as follows;
Premium Rooms
Superior Rooms
Premium Ocean view rooms
Family Room
Trident Club Room
Trident Executive Suite
Delux Suites Ocean View
Trident Special Suite
Presidential Suite
Note: Rooms listed in ascending order expense wise
---
Our Room: Trident Executive Suite
The Hall
Aushutosh from the front desk graciously accompanied us to our room. As soon the door was opened, the first thing one notices is full length glass windows offering never ending view of the Arabian sea touching the boundaries of Marine drive.
Being a premium suite, it comes with a hall which has plush sofas, an office table, a TV unit, mini bar etc.
Now Trident has 2 types of Executive suite , one is the "Bay View room" and another is "Marine Drive view". Ours was the Bay view room, hence we had a 180 degree view of the sea with NCPA  Apartments on the dead end of Marine Drive and the Queens Necklace offering a view of Mumbai Skyline on the other end.
I was always under the impression that Trident is more frequented by business travelers and hence the look and feel of the hotel and room will be more professional. My impression definitely changed after seeing the small minute detailing in the room. Thoughtful gestures such as a bowl of fruits, an indoor plant and lots of vases of roses & liliums spread across the room give you a very homely comfy feel.
I was extremely touched and honoured that their Executive Chef Mr. Saurav Banerjee and his team had a small surprise awaiting for us in the room.
I was elated that the team had taken such extra effort to surprise us with a lovely desert by mentioning my blog name "Tourist to Travellers".
Some of the best deserts I have had in my life were in Positano, Amalfi Coast and on having a bite of this desert, I felt like I had been teleported to Positano!
The Bedroom
As if the views in the hall were not enough, the bedroom too had a full length window offering breathtaking view of the arabian coastline.
I am extremely touched that Aarti, who helped me a lot throughout the booking process and coordinated the entire staycation inquired about our requirements before our arrival. Upon knowing that I would be travelling with a 4 month old infant, she coordinated with Sangita from housekeeping and they had already set up a Crib for my daughter before we checked in! She was also courteous enough to met us once we checked in to ensure that our stay was comfortable. Its the small gestures that matter, the housekeeping team had very sensibly placed a water purifier and small baby shoes too!
The Bathroom
Aww was the first word that escaped my mouth when I saw this!
The bathroom was larger compared to what you see in other hotels. What excited me most was the bathtub which came with a small baby tub. 
TV with a hot water bath soak, sounds good right? I was amazed to see that there was a mini TV screen placed right in from the bathtub to let you enjoy a nice cozy bath.
I was impressed that they had placed "Kama" luxury products and even placed a cute hamper from "The Moms co" for my daughter. As if that was not enough, there were a nail cutter, a nail polish remover, powder and oil too.
Out of all the hotels that I stayed in India or abroad, this is the 1st hotel that went to such additional lengths with their detailing!
There is ample storage area for storing those heavy bags too.   
After we finished touring the entire room, Ashutosh graciously sent us with high tea with snacks. Coffee with this view, "YES Please"
I was quite reluctant to step out of this amazing room but I really did want to explore and see what all the hotel has to offer.
You may also like to read about this Amazing Sailing Experience in Thane, Mumbai HERE 
---
The Pool Area
Considering the safety of the guests, the pool was closed for use however one could stroll around the pool area or have a seat in the mini garden adjoining the pool side.
There were ample chairs where one could sit, unwind and enjoy a relaxing evening.
Misty fog setting over the skyline of Mumbai and a cool breeze grazing my face made up for an evening I will not easily forget.
---
Trident Mumbai Restaurants
Trident has some of the best restaurants in Mumbai where they serve mouth watering delicacies. 
Verandah : A walk down Memory Lane
I already mentioned Verandah is the first thing one notices when one enter the hotel.  Its one of the best coffee shops in Mumbai. A cup of hot coffee, stunning views of the sea and chit chat with your buddy, that's how I see this restaurant. Infact I have personally frequented this place a couple of times to just sit and soak in the views.
Frangipani
Our dinner and breakfast was set at Frangipani only however we thought of going and checking it out beforehand. The restaurant is located in the basement area and offers delicious Indian and Mediterranean cuisine. Its one of the best restaurant in mumbai.
Frangipani is done up in a classy manner with ample seating space. What caught my attention and interest was the exterior wall of the restaurant had these square boxes containing actual spices.
India Jones
This fine dining restaurant offers Pan asian cuisine and is situated in the basement right opposite Frangipani.

Also read : Where to stay in Bekal? Taj Bekal Resorts & SPA review
---
Roop Top
The roof top located on the 35th floor is one you do not want to miss when you visit Trident! 
Cascading rays of the sun filtering in through the full length windows illuminate and cast a yellow hue upon the room
We went there to watch the sunset before making our way back to our room.
---
Dinner
Those who know me know that I take my food seriously! Since we were in the mood for some authentic Indian cuisine, we made our way to Frangipani which is a 20 year old restaurant.
We were greeted by Shantanu the food and beverages manager who promptly seated us to our table. Trident being known for its hospitality, Shantanu and his team of Raunaq, Tony, Rajgopalan left no stone unturned in suggesting various specialties and ensuring that we have a great evening.
Basis their recommendation we ordered a pizza, chicken Malai tikka and Paneer Tikka to start with. Interestingly, Frangipani is one of the few restaurants in Mumbai that has a "Wood Fired Pizza"
Needless to say it was Delicousss…
The starter quantity was much more than we expected leaving us no space to got to Main course. We ordered only 2 dishes namely Vegetable Kofta and Chicken Biryani both of which were extremely delicious.
Now my favorite part of the evening, Desert time. We decided to go for Baklava and a burnt expresso Tiramisu. If you followed my Turkey stories, you would have read that I time and again mentioned "Hafiz Mustafa" one of the oldest shops selling Baklava since 1864. There is an art to making baklava, it needs just the right amount of sweetness, juiciness and crispiness. It is surely difficult to match such legacy and we have many stores/ restaurants in Mumbai that sell Baklava but none came even remotely close to Hafiz Mustafa. Truth be told, I had my doubts when we ordered the baklava.
As soon as I took a bite, I closed my eyes and felt like I had teleported to Istanbul, Turkey and was gorging on a Hafiz Mustafa baklava. We had to pay our respect to  Samrudhi and Ishrat who had done such a fantastic job! Samrudhi the deserts chef came to meet us and I had to resist myself from kissing her hands and telling her what a fab job she has done!
The burnt expresso Tiramisu was super delicious too. The team insisted that we try the "Chocolate fuillant" which is a specialty of the restaurant but we were too stuffed to take another bite.
After thanking the staff for their amazing hospitality and the delicious food, we called it a night and headed back to our room.
---
Breakfast
We woke up to a beautiful day and made our way again to Frangipani for some breakfast. After last nights food, I didn't think I could put any more food in my mouth but I also didn't want to miss out on the lavish spread.
As soon as we were seated, Mr. Tony promptly offered us with tea/ coffee and we placed our order for some pan hot items likes eggs and uttapam.

Mr. Rajgopalan reminded me that I had yet to try out the desert that we missed out last night and he got it to our table. I dont remember seeing a more fancy desert. The chocolate desert had gooey inner fillings and I felt like I was in a 5 star aid " Khaiye aur kho jaiye"
There was a plethora of food ranging from various kinds to breads to muffins to baked dishes to fruits and juices.
It was so thoughtful of the chef to place an entire counter dedicated to "Health freaks" that consisted of various healthy juices, yogurts, sprouts, detox water etc.
Happy with a full tummy we bid a final goodbye to the team with a promise to return back sometime soon.
---
Pros
Trident is both a leisure and business hotel.
The hospitality at Trident was unmatched to any other 5 star hotel that I have visited recently
Trident offers splendid views of the arabian sea, Mumbais skyline and the Queens necklace.
All you health freaks can also step out of the hotel for a morning or evening walk at Marine Drive.
The hotel is very strategically located on the Marine drive. If you wish to step out then there are ample restaurants in the immediate vicinity
Want to catch a movie or watch a theatre show? Inox Cinema and NCPA both are a stones throw away from the hotel.
Cons
I wouldn't say this is a con but I do like having my food with sea view and would have loved for Frangipani to have a sea view but unfortunately its in the basement. The food however very much makes up for this.
Being situated in the main city centre, one has to brave some traffic during rush hours.